Services

Come to Angelo's for all your service needs!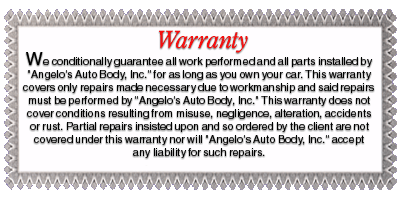 Body Repairs
Brakes
Shocks
Struts
Air Conditioning
Front End Alignments
Technology
Environmentally safe, high quality Zhongda Downdraft Spray Booth.
Infra-red paint curing systems allow curing times to be reduced by up to 75%. This system also helps reduce shrinkage, moisture entrapment, and dust trapped in paint.
Call our Service Department Hotline at (203) 348-6407. Estimates are done by appointment only.